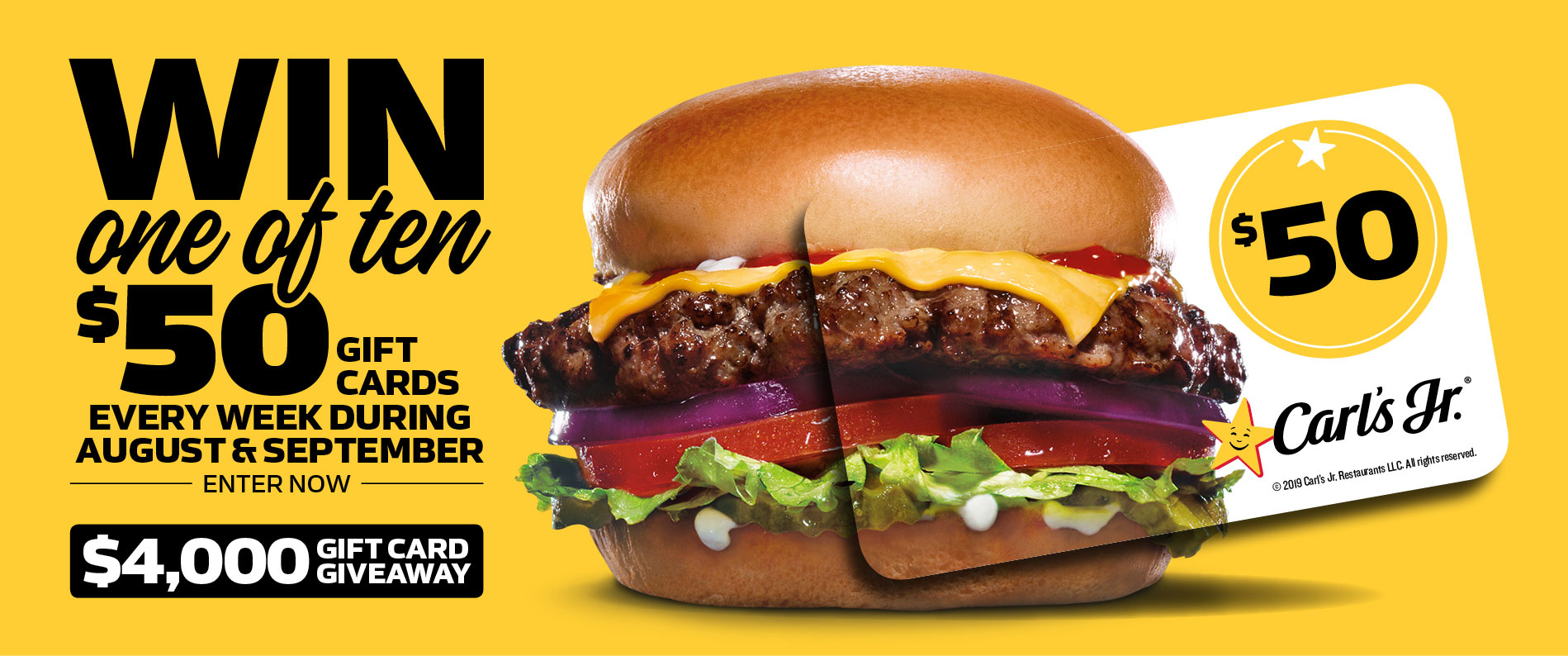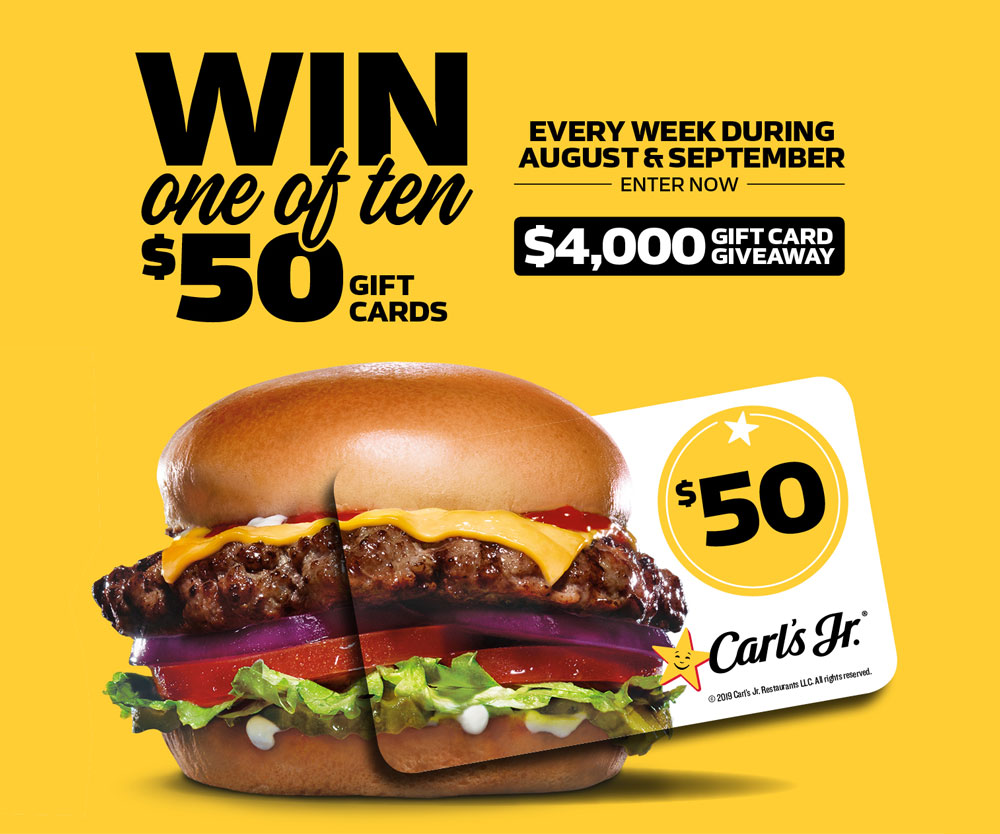 The Carl's Jr. gift card giveaway is a runaway success, with thousands of fans entering the draw for a chance to win one of 80 gift cards! If you haven't done it, make sure you

enter now
!
Here are our winners so far. Are you one of them? If you are, one of our delightful Carl's Jr. team members will contact you to arrange collection of your gift card!
If you haven't received an email from us, please check your Junk or Spam folder, or the Promotions tab in GMail.

| Name | State | Pcode |
| --- | --- | --- |
| Aaron | VIC | 3977 |
| Adam | VIC | 3139 |
| Adrianne | VIC | 3037 |
| Adrianne | SA | 5008 |
| Ana | VIC | 3000 |
| Andrew | SA | 5085 |
| Andrew | VIC | 3003 |
| Andrew | QLD | 4207 |
| Angela | QLD | 4217 |
| Annie | QLD | 4301 |
| Ben | VIC | 3350 |
| Benjamin | QLD | 4301 |
| Bianca | QLD | 4301 |
| Bianca | QLD | 4078 |
| Boston | NSW | 2264 |
| Brett | QLD | 4212 |
| caylie | VIC | 3976 |
| Christine | NSW | 2763 |
| Clarike | QLD | 4207 |
| Clinton | QLD | 4510 |
| Curt | QLD | 4159 |
| Damian | QLD | 4503 |
| David | QLD | 4510 |
| Daylan | SA | 5251 |
| Derek | QLD | 4000 |
| Eric | QLD | 4301 |
| Greg | QLD | 4700 |
| Heather | QLD | 4019 |
| Jacob | VIC | 3011 |
| Jakob | SA | 5251 |
| Jason | SA | 5159 |
| Jesse | QLD | 4209 |
| Jessica | SA | 5084 |
| Joanne | QLD | 4306 |
| Joanne | VIC | 3977 |
| John | QLD | 4304 |
| John | QLD | 4207 |
| Joshua | NSW | 2234 |
| Joshua | QLD | 4301 |
| Josie | QLD | 4022 |
| Karen | QLD | 4022 |
| Katherine | VIC | 3000 |
| Katherine | QLD | 4509 |
| Kayleen | QLD | 4301 |
| Kiearna | QLD | 4740 |
| Kimberley | QLD | 4207 |
| Lemuel | VIC | 3977 |
| Maddie | QLD | 4022 |
| Mark | QLD | 4022 |
| Mark | VIC | 3977 |
| Mary | QLD | 4022 |
| Matt | NSW | 2285 |
| Michael | SA | 5096 |
| Michael | QLD | 4022 |
| Nancy | NSW | 2261 |
| Nathanael | QLD | 4301 |
| Nikki | NSW | 2261 |
| Ninna | QLD | 4078 |
| Pascal | QLD | 4021 |
| Peter | NSW | 2261 |
| Peter | QLD | 4207 |
| Rachael | QLD | 4206 |
| Rachel | QLD | 4302 |
| Rita | VIC | 3977 |
| Sanchit | VIC | 3000 |
| Sharon | QLD | 4207 |
| Shaylea | QLD | 4503 |
| Tony | QLD | 4301 |
| Ya-ting | QLD | 4212 |
| Zach | QLD | 4104 |